Read PART THREE of our special guest blog post by Jon Clarke, Shadow Headteacher at Walsall Academy, on their fantastic Everest Base Camp expedition.
The reasoning, the challenges, and the student learning experience…
Catch up on Part 1 Catch up on Part 2
Part 3
As we progressed higher and higher we found costs rose up to $5 for a bottle of water. We were fortunately boiling water and treating it due to ethics on plastics and also to stay within budget. Food became more expensive and due to altitude you couldn't taste it even when it had several raw chilies in! Accommodation in the tea houses means that you have a double sleeping room which is secure, vital for young people, but you do have shared toilets which if the floor gets wet become a skating rink when it freezes in the night. You become a bit of a Torvil and Dean very quickly as toilets are often of the open style. Food is served in a main room with a yak dung stove in the centre, the only heating in the tea house. Here we made friends with people from all over the world.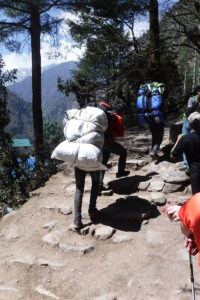 We as a team were quite recognisable, not only because they were young, but we also had team jackets badged up with sponsor logos. One handy technique I found many years ago, was to get tour t-shirts and hoodies – it makes it so much easier to spot your group on tour, and especially in airports at the height of ski season when you have 15 groups going out at the same time. Our kit was nice and our main sherpas also had jackets so we looked very professional. That one piece of kit led to us meeting up with the Gurkha Regiment team who are going to Everest summit in 2017. They provided friendship and useful advice for the students, but also gave the team some kudos.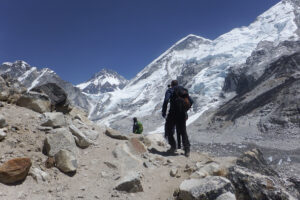 Our ultimate goal was always to get the full team to Base Camp, but we knew that plans may change and that it was huge challenge. It's a long walk to Base Camp and the terrain becomes harder as you walk at the side of the Khumbu glacier then on it. Altitude took its toll on the group and we slowed even further as we approached Base Camp. We could hear the tunes bouncing down the Khumbu Valley as Paul Oakenfold was on the decks conducting the world's highest ever rave, raising money for aid projects in Nepal. Base Camp itself is centred around a pile of stones and prayer flags where everyone, including our team, has their photos taken. The summit expeditions camp up towards the Khumbu ice fall, a little distance away. We spent about an hour taking photos. Behind my mirrored glasses taking the photos, I was a little bleary eyed and so proud of the team in front of me.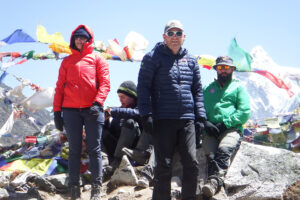 As we know, climbing to the summit is only 50% of the journey – getting down safely is the hard job. My task then became to motivate and keep the team going for three hours back to Ghorak Shep, where we were staying in what can only be described as a dump. The students were up in the dark the next morning to head up Kala Pattar, a local mountain at 5900m, to watch the sunrise on Everest. Then we had to descend quickly. In the space of 8 hours we descended 1000m and the effects on everyone were immediate with so much more oxygen.
Over the next few days, and after meeting the Gurkha expedition again, the enormity of the accomplishment hit home with the group. We heard countless tales of people giving up, helicopter evacuations, and the use of drugs to counteract altitude sickness. Our secret was going slowly at all times and being honest about how you felt, but also a big dose of resilience. It took 6 days to get back to Kathmandu where we then had three days of sightseeing and recovering before our flight home. The students by this point had become accomplished tour organisers and had done a deal with the in-country guides arranging local city guides and an air-conditioned minibus. This meant we didn't have to rely on local buses and a tatty copy of the Lonely Planet guide, and we therefore got to see far more, and did not get hassled in the busy tourist areas. They had learnt very quickly on their first few hours in Kathmandu to plan and look after your team.
So where next? Lots of planning for next year's visits, a Battlefield tour in July, a ski trip in February and then a very secret project for 2019!
Special thanks from Select to our guest blogger Jon Clarke-Shadow headteacher at Walsall Academy-Winston Churchill Fellow and published author. We salute the adventuring spirit of you and your intrepid students, and are proud to have played a small part with our sponsorship. We can't wait to hear about your next adventure!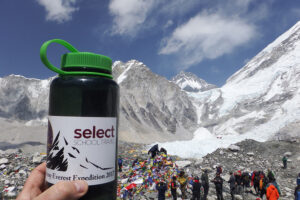 Read PART TWO of our special guest blog post by Jon Clarke, Shadow Headteacher at Walsall Academy, on their fantastic Everest Base Camp expedition. The reasoning, the challenges, and [...]

Read PART ONE of our special guest blog post by Jon Clarke, Shadow Headteacher at Walsall Academy, on their fantastic Everest Base Camp expedition. The reasoning, the challenges, and [...]

An activities week offers your students the opportunity of unique and memorable experiences, and a chance to mix with other pupils and build confidence. A trip to Barcelona is [...]