Primary cross-curricular tour to Normandy by coach: 4 days, 3 nights
A key stage 2 tour to Normandy is great for a language and cultural trip providing numerous opportunities for students to practise their French in real-life situations and immerse themselves in French culture. It is also a great destination for a more cross-curricular tour with excursions that relate to history, D&T, Geography, maths and science KS2 curriculum.
Suggested itinerary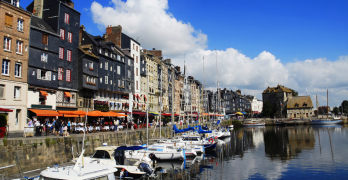 Day one
Depart from school by coach
Connect with channel crossing
Stop at Honfleur on route
Arrive at accommodation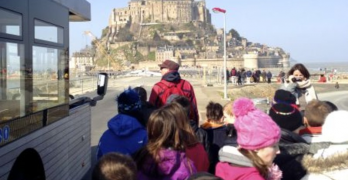 Day two
Mont St Michel
Mont St Michel Abbey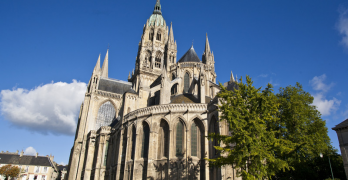 Day three
Market visit
Bayeux Tapestry & Cathedral
360 Cinema
American Cemetery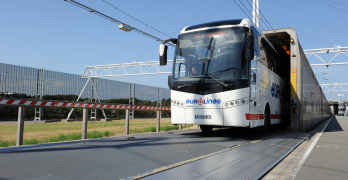 Day four
Depart accommodation
Stop en route at chocolaterie
Return back to the UK on coach
Tour gallery
Excursion locator map
Town Trail

Subject range: Cultural, Language

What you'll experience: 'Hunt Fun' treasure hunts are a great fun way to get your students out and about and exploring a town whilst on your tour, learning so much along the way. The treasure hunts will guide you past historical buildings, statues and monuments encouraging problem solving, team work, navigation skills and much more. Your treasure hunt packs contains treasure hunt booklets to complete.
Select says: A treasure hunt will normally last about 2 hours but could be made longer by incorporating a lunch stop or another local visit. Available for selected towns within Belgium and France – speak to one of our travel advisors for further details.

Abbey-aux-Dames - The Woman's Abbey, Caen

Subject range: MFL, Cultural, History, RS

What you'll experience: The abbey was founded around 1060 by Matilda of Flanders and has an interesting history including accommodating girls from the Norman aristocracy until the French Revolution, being a barracks, a poorhouse and a hospice. The abbey church is an excellent example of Norman Romanesque art and the body of Queen Matilda rests under a Tournai black marble slab in the chancel.
Select says: There is much to admire with the rich sculptures and the column capitals are adorned with fantastic animals taken from the bestiary and treasures from the first crusade.

Festyland

Subject range: Cultural, Language

What you'll experience: Festyland is the biggest amusement park in Normandy and offers around thirty rides. A great fun day out for students and great for activity weeks.
Select says: Located in Bretteville-sur-Odon near Caen.

Chevrerie du Mesnil (Goat's Cheese Farm)

Subject range: Cultural, Food Technology, Language

What you'll experience: Located at the foot of a dell, you'll receive a warm welcome from Mr Martin to his farm. The 40 Alpine goats are a firm favourite with our school groups and children find out about goat breeding, cheesemaking, and also experience a cheese tasting session. A room is at your disposal for picnics and there is also an outside picnic area.
Select says: Tours are offered in English or French and this is a popular tour for all ages.

Les Vergers de Ducy (Apple Juice/Cider Farm)

Subject range: Cultural, Food Technology, Language

What you'll experience: During the tour, students are shown an introductory video followed by a tour of the orchards and an overview of the production process from washing and crushing the apples to the casks where the calvados is matured.
Select says: This is a welcoming and informative tour and students have the opportunity to taste the apple juice and purchase in the shop.

Swimming - Aquanacre

Subject range: MFL, Physical Education

What you'll experience: Aquanacre is located in Douvres-la-Délivrande, just 10 minutes from the Château du Baffy. The swimming centre has 3 pools, one outside, and a pentagliss (parallel slides).
Select says: Swimming is always a fun activity to choose for the students and great for unwinding as an evening activity.

Ferme de la Mimarnel - Goat's Cheese Farm

Subject range: MFL, Cultural, Food Technology

What you'll experience: Ferme de la Mimarnel is a small family run goat's cheese producer in the village of Cambremer, approximately an hour's drive east of Château du Baffy. During a visit, groups will have the opportunity to see the goats and to taste the cheese during a guided tour in French.
Select says: The tour will give students an insight into the stages of the cheese making process whilst enabling the development of their language skills.

Paleospace

Subject range: MFL, Science, Cultural

What you'll experience: Educational activities are organised around 3 themes at Paleospace: palaeontology, astronomy and the fauna and flora of the marsh. There are a variety of options depending on the age group – see website for details. Unguided visits are an option with the group and teacher looking around the museum at their own pace. Visits with an audio guide in English are also possible to give pupils an interactive experience where they can choose from over 30 commentaries and find their way round in their own time.
Select says: Treasure hunt leaflets are available from Paleospace upon request to help structure your visit.

Château de Fontaine-Henry

Subject range: MFL, Art, History

What you'll experience: Château de Fontaine-Henry is a family Renaissance residence handed down over the generations and has a collection of period paintings and furniture. Guided group tours are in English as well as French.
Select says: A great location for students to bring their sketch pads and pencils. The château has distinctive high, steep roofing and sculpted exterior.

Honfleur

Subject range: MFL, Art, Cultural, Geography, Food Technology

What you'll experience: A town with a rich artistic and historical heritage, Honfleur has beautiful old houses, narrow paved streets, monuments, little shops, traditional restaurants, galleries, artists' studios, a fishing harbour and a marina.
Select says: The changing light on the Seine estuary inspired Monet, Boudin, Courbet, and many others. Great place to stop for lunch on route to your destination or on the way home to break up the journey.

Bakery – Boulangerie Les Co-Pains near Cambremer

Subject range: MFL, Cultural, Food Technology

What you'll experience: The children actively participate in the bread making process, from visiting the mill and learning about the different types of flour to kneading the dough and seeing the stages in dough production such as weighing the dough, shaping it, cooking it in the oven, and cooking time.
Select says: Each child may take the bread they have made with them. There is an indoor/outdoor picnic area on site. This is a must do excursion and one of Select's favourites in Normandy. It has a great atmosphere and the staff are very welcoming and friendly. Tours can be tailored to ages and language abilities.

Mont Saint-Michel and Abbey

Subject range: MFL, Cultural, History, Geography, RS

What you'll experience: Mont St-Michel is in the heart of a great bay that has the highest tides in Europe. After going through the Boulevard Gate and the King's Gate fortified with its portcullis, you will find the main street with museums, shops and houses dating from the 15th and 16th centuries. After admiring the Abbey church, you can enjoy the beautiful view over the bay from the ramparts path.
Select says: The Abbey was turned into a prison during the days of the French Revolution and Empire, and needed to be restored before the end of the 19th century. You must transfer to the local bus over the causeway as coaches and cars are now restricted. This is due to a regeneration project going on in the area currently – more information is available at the visitors centre near the car park before you go over the causeway.

Bayeux Tapestry Museum

Subject range: MFL, Art, Cultural, History

What you'll experience: The Bayeux Tapestry is a unique source on the 11th century beginning with Harold's eventful journey to Normandy through to the Battle of Hastings. Visits are by audio-guide giving commentary on the scenes.
Select says: There is a simplified audio version in English especially for children.

Bayeux Cathedral

Subject range: MFL, Art, Cultural, History, RS

What you'll experience: The cathedral of Notre-Dame in Bayeux is an impressive building with a mix of Romanesque architecture in the 11th century crypt and Gothic in the 13th-century nave. The crypt contains some beautiful murals and the stained-glass windows in the chapel are stunning.
Select says: Read the diagram on the stairs before you descend into the crypt, as it gives some information about the images below.

Manoir d'Apreval, apple juice/cider farm

Subject range: MFL, Cultural, Food Technology

What you'll experience: There is a guided tour to show you the collection techniques, mixing apples, fermentation, and the process of distillation.
Select says: You will also be able to sample some of the wonderful apple juice.

Market Visits

Subject range: MFL, Cultural, Food Technology

What you'll experience: The markets in Normandy are fabulous places for students to see and sample the diversity of local produce and traditions, and to experience a colourful, lively and welcoming atmosphere. It's also a great chance to try out their language skills. A full list of possibilities can be viewed a at the Normandy tourism website market page.
Select says: Bear in mind that most markets take place in the morning or on specific days. Some accommodations allow you to take food back and make lunches for your group after the market visit. Some groups enjoy doing this as a French language use excersise.

William the Conqueror's Castle, Falaise

Subject range: MFL, Cultural

What you'll experience: William the Conqueror, the son of Duke Robert of Normandy, was born at the castle in about 1028. William went on to conquer England and become king and possession of the castle descended through his heirs until the 13th century when it was captured by King Philip II of France. The tour uses computer tablets to show the castle as it was lived in together with a description of the history of the Normans.
Select says: There are lots of stairs to climb, but there's a lovely view over Falaise from the castle heights.

Chocolaterie du Drakkar

Subject range: MFL, Cultural, Food Technology

What you'll experience: At Chocolaterie du Drakkar, students learn all about the history and production of chocolates, including a film which takes you on a trip to the cocoa plantations of Sao Tome. Students will get many insights into the production process at Drakkar, including trying to recognize the aromas that are most often mixed with cocoa.
Select says: Of course, this visit would not be a chocolate tour without some traditional tasting!
Primary cross-curricular tour to Normandy by coach: 4 days, 3 nights Accommodation
Learning areas:
KS2

PSHE

Building self-confidence
Working with others
Promoting understanding of different cultures
Preparing pupils for the opportunities, responsibilities and experiences of later life

Foreign Language

listen attentively to spoken language and show understanding by joining in and responding
engage in conversations
ask and answer questions
develop accurate pronunciation and intonation
broaden their vocabulary and develop their ability to understand new words

Design and technology – cooking and nutrition

understand and apply the principles of a healthy and varied diet
know where and how a variety of ingrediants are grown, reared, caught and processed

Art and design

to create sketch books to record their observations
to improve their mastery of art and design techniques

History

a study of an aspect or theme in British history that extends pupils chronologcal knowledge beyond 1066

Select Extras:

For KS2 students to practise their language skills pre-tour try these resources:

BBC Primary French – language lab

BBC Primary French – all about me (also includes French sounds video and songs)

Have you thought of selecting a relevant movie for the coach journey? We recommend Ratatouille!